The One (The Selection #3)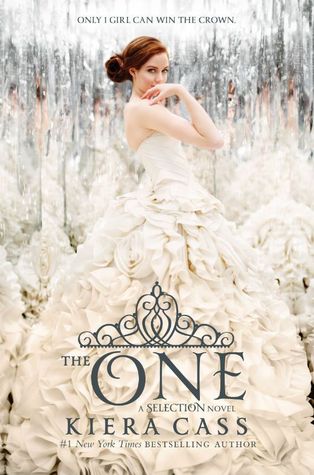 Author: Kiera Cass
Published: May 6th, 2014 by HarperTeen
The Selection changed the lives of thirty-five girls forever. And now, the time has come for one winner to be chosen.

America never dreamed she would find herself anywhere close to the crown—or to Prince Maxon's heart. But as the competition approaches its end and the threats outside the palace walls grow more vicious, America realizes just how much she stands to lose—and how hard she'll have to fight for the future she wants.

From the very first page of The Selection, this #1 New York Times bestselling series has captured readers' hearts and swept them away on a captivating journey... Now, in The One, Kiera Cass delivers a satisfying and unforgettable conclusion that will keep readers sighing over this electrifying fairy-tale long after the final page is turned.
Author: Jennifer L. Armentrout
Published: April 15th, 2014 by Disney-Hyperion
Samantha is a stranger in her own life. Until the night she disappeared with her best friend, Cassie, everyone said Sam had it all-popularity, wealth, and a dream boyfriend.

Sam has resurfaced, but she has no recollection of who she was or what happened to her that night. As she tries to piece together her life from before, she realizes it's one she no longer wants any part of. The old Sam took "mean girl" to a whole new level, and it's clear she and Cassie were more like best enemies. Sam is pretty sure that losing her memories is like winning the lottery. She's getting a second chance at being a better daughter, sister, and friend, and she's falling hard for Carson Ortiz, a boy who has always looked out for her-even if the old Sam treated him like trash.

But Cassie is still missing, and the facts about what happened to her that night isn't just buried deep inside of Sam's memory-someone else knows, someone who wants to make sure Sam stays quiet. All Sam wants is the truth, and if she can unlock her clouded memories of that fateful night, she can finally move on. But what if

not

remembering is the only thing keeping Sam alive?
Published: March 5th, 2013 by Simon Pulse
Everyone thinks Sophie's sister, Nell, went crazy. After all, she heard strange voices that drove her to commit suicide. But Sophie doesn't believe that Nell would take her own life, and she's convinced that Nell's doctor knows more than he's letting on.

As Sophie starts to piece together Nell's last days, every lead ends in a web of lies. And the deeper Sophie digs, the more danger she's in—because now she's hearing the same haunting whispers. Sophie's starting to think she's going crazy too. Or worse, that maybe she's not….
Author: T. Michael Martin
Published: May 7th, 2013 by HarperCollins
It happened on Halloween.
The world ended.
And a dangerous Game brought it back to life.


Seventeen-year-old Michael and his five-year-old brother, Patrick, have been battling monsters in The Game for weeks.

In the rural mountains of West Virginia, armed with only their rifle and their love for each other, the brothers follow Instructions from the mysterious Game Master. They spend their days searching for survivors, their nights fighting endless hordes of "Bellows"—creatures that roam the dark, roaring for flesh. And at this Game, Michael and Patrick are very good.

But The Game is changing.

The Bellows are evolving.

The Game Master is leading Michael and Patrick to other survivors—survivors who don't play by the rules.

And the brothers will never be the same.

T. Michael Martin's debut novel is a transcendent thriller filled with electrifying action, searing emotional insight, and unexpected romance.