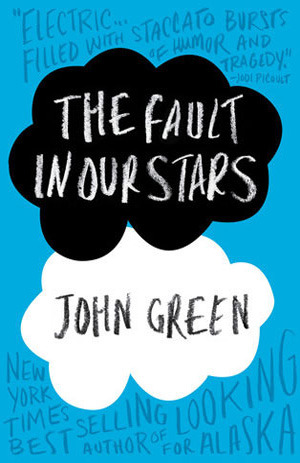 {Review} The Fault in Our Stars
Title: The Fault in Our Stars
Published: January 10th, 2012 by Dutton Books
Despite the tumor-shrinking medical miracle that has bought her a few years, Hazel has never been anything but terminal, her final chapter inscribed upon diagnosis. But when a gorgeous plot twist named Augustus Waters suddenly appears at Cancer Kid Support Group, Hazel's story is about to be completely rewritten.
It is really hard to compartmentalize all that is The Fault in Our Stars, with its sophisticated writing, witty dialogue, deep themes, heart-felt love story, and the amazing characters; I fell in love with it.

I was really hoping that John Green and his novel was not just another over-hyped book, and I am happy to say that it was not.

It is extremely worth all of the hype surrounding it and then some.

I think that this book will soon become a classic and has the power to change reader's lives.

Yes, this book is that amazing.

This book brought forth feelings from me that I have never felt reading a book before and it is now categorized as one of my favorite books.
The writing in this book is superb.

With its witty and sarcastic humor, I found myself regularly laughing.

I feel that the writing in this book is advanced for a Young Adult book, not in the way that a teenager is unable to read it, just in the fact that it is incredibly smart and full of deep themes.

I felt like, although the love story was great, that the other messages in this book were very important.

I loved that this book explored the fear of being forgotten after death and urged the importance of living life to its fullest because no one knows when it will be their time to die.

I feel like this book is very relatable to everyone, even individuals who have never been affected by cancer, because it discusses fears that every human has.

I also liked the statement that "pain needs to be felt" because everyone must go through some sort of pain in their lifespan, whether it is a loss of a loved one to a bad break-up, it's something that we can all relate to.
I absolutely loved all the characters and relationships that were in this book.

I liked the relationship between Hazel and her parents.

As a parent, I can't imagine what it is like to know for a fact that your child will die.

I liked that it explored Hazel being afraid that she will ruin her parent's lives if she dies and her mother struggling with being protective over her child, but still letting her live her life.

I also loved the friendship between Isaac and Augustus, as well as the relationship between Augustus and Hazel.

I really enjoyed that Augustus taught Hazel how to live life.

Pre-Gus, Hazel just seemed to sit at home and watch ANTM with her parents, not wanting to create relationships with people who might be affected by her death, but Augustus taught Hazel to live life and embrace love.
Overall, I would recommend this book to everyone: young or old, female or male, romance reader or not…this book was amazing.

Although this book is sad, I also felt like it provided hope and understanding.

I will defiantly be picking this book up again…and again…and again.
Check out
The Fault in Our Stars
Trailer: