Where I share the books that I picked up for really cheap!
Published: April 21st, 2009 by Disney-Hyperion
Alexis thought she led a typically dysfunctional high school existence. Dysfunctional like her parents' marriage; her doll-crazy twelve-year-old sister, Kasey; and even her own anti-social, anti-cheerleader attitude. When a family fight results in some tearful sisterly bonding, Alexis realizes that her life is creeping from dysfunction into danger. Kasey is acting stranger than ever: her blue eyes go green sometimes; she uses old-fashioned language; and she even loses track of chunks of time, claiming to know nothing about her strange behavior. Their old house is changing, too. Doors open and close by themselves; water boils on the unlit stove; and an unplugged air conditioner turns the house cold enough to see their breath in.

Alexis wants to think that it's all in her head, but soon, what she liked to think of as silly parlor tricks are becoming life-threatening--to her, her family, and to her budding relationship with the class president. Alexis knows she's the only person who can stop Kasey -- but what if that green-eyed girl isn't even Kasey anymore?
The Likeness
Published: July 17th, 2008 by Viking Adult
Six months after the events of
In the Woods
, Detective Cassie Maddox is still trying to recover. She's transferred out of the murder squad and started a relationship with Detective Sam O'Neill, but she's too badly shaken to make a commitment to him or to her career. Then Sam calls her to the scene of his new case: a young woman found stabbed to death in a small town outside Dublin. The dead girl's ID says her name is Lexie Madison (the identity Cassie used years ago as an undercover detective, and she looks exactly like Cassie.
With no leads, no suspects, and no clue to Lexie's real identity, Cassie's old undercover boss, Frank Mackey, spots the opportunity of a lifetime. They can say that the stab wound wasn't fatal and send Cassie undercover in her place to find out information that the police never would and to tempt the killer out of hiding. At first Cassie thinks the idea is crazy, but she is seduced by the prospect of working on a murder investigation again and by the idea of assuming the victim's identity as a graduate student with a cozy group of friends.
As she is drawn into Lexie's world, Cassie realizes that the girl's secrets run deeper than anyone imagined. Her friends are becoming suspicious, Sam has discovered a generations-old feud involving the old house the students live in, and Frank is starting to suspect that Cassie's growing emotional involvement could put the whole investigation at risk. Another gripping psychological thriller featuring the headstrong protagonist we've come to love, from an author who has proven that she can deliver.
Published: May 3rd, 2007 by Hodder Children's Books
Incarceron -- a futuristic prison, sealed from view, where the descendants of the original prisoners live in a dark world torn by rivalry and savagery. It is a terrifying mix of high technology -- a living building which pervades the novel as an ever-watchful, ever-vengeful character, and a typical medieval torture chamber -- chains, great halls, dungeons. A young prisoner, Finn, has haunting visions of an earlier life, and cannot believe he was born here and has always been here. In the outer world, Claudia, daughter of the Warden of Incarceron, is trapped in her own form of prison -- a futuristic world constructed beautifully to look like a past era, an imminent marriage she dreads. She knows nothing of Incarceron, except that it exists. But there comes a moment when Finn, inside Incarceron, and Claudia, outside, simultaneously find a device -- a crystal key, through which they can talk to each other. And so the plan for Finn's escape is born …
Where It Began
Author: Ann Redisch Stampler
Published: March 6th, 2012 by Simon Pulse
Gabby Gardiner wakes up in a hospital bed looking like a cautionary ad for drunk driving, and without a single memory of the accident that landed her there. But what she can recall, in frank and sardonic detail, is the year leading up to the crash.

As Gabby describes her transformation from Invisible Girl to Trendy Girl Who Dates Billy Nash (aka Most Desirable Boy Ever), she is left wondering: Why is Billy suddenly distancing himself from her? What do her classmates know that Gabby does not? Who exactly was in the car that night? And why has Gabby been left to take the fall?

As she peels back the layers of her life, Gabby begins to realize that her climb up the status ladder has been as intoxicating as it has been morally complex...and that nothing about her life is what she has imagined it to be.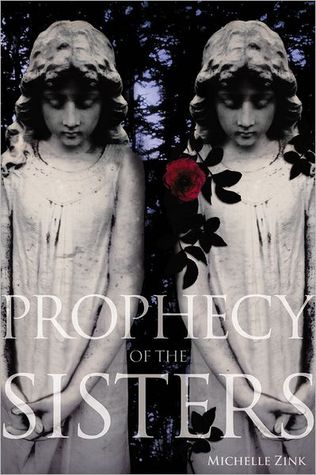 Published: August 1st, 2009 by Little, Brown Young Readers
An ancient prophecy divides two sisters-
One good...
One evil...
Who will prevail?
Twin sisters Lia and Alice Milthorpe have just become orphans. They have also become enemies. As they discover their roles in a prophecy that has turned generations of sisters against each other, the girls find themselves entangled in a mystery that involves a tattoo-like mark, their parents' deaths, a boy, a book, and a lifetime of secrets.
Lia and Alice don't know whom they can trust.
They just know they can't trust each other.
I Am Not A Serial Killer
Published: March 5th, 2009 by Tor Books
John Wayne Cleaver is dangerous, and he knows it.

He's spent his life doing his best not to live up to his potential.

He's obsessed with serial killers, but really doesn't want to become one. So for his own sake, and the safety of those around him, he lives by rigid rules he's written for himself, practicing normal life as if it were a private religion that could save him from damnation.

Dead bodies are normal to John. He likes them, actually. They don't demand or expect the empathy he's unable to offer. Perhaps that's what gives him the objectivity to recognize that there's something different about the body the police have just found behind the Wash-n-Dry Laundromat---and to appreciate what that difference means.

Now, for the first time, John has to confront a danger outside himself, a threat he can't control, a menace to everything and everyone he would love, if only he could.

Dan Wells's debut novel is the first volume of a trilogy that will keep you awake and then haunt your dreams.
Published: July 31st, 2007 by Flap Jacket Press
Look into the lace? When the eyes begin to fill with tears and the patience is long exhausted, there will appear a glimpse of something not quite seen... In this moment, an image will begin to form? in the space between what is real and what is only imagined. Can you read your future in a piece of lace? All of the Whitney women can. But the last time Towner read, it killed her sister and nearly robbed Towner of her own sanity. Vowing never to read lace again, her resolve is tested when faced with the mysterious, unsolvable disappearance of her beloved Great Aunt Eva, Salem's original Lace Reader. Told from opposing and often unreliable perspectives, the story engages the reader's own beliefs. Should we listen to Towner, who may be losing her mind for the second time? Or should we believe John Rafferty, a no nonsense New York detective, who ran away from the city to a simpler place only to find himself inextricably involved in a psychic tug of war with all three generations of Whitney women? Does either have the whole story? Or does the truth lie somewhere in the swirling pattern of the lace?