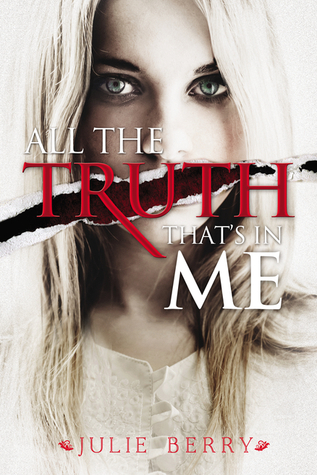 {Review} All the Truth That's in Me
Title: All the Truth That's in Me
Published: September 26th, 2013 by Viking Juvenile
Four years ago, Judith and her best friend disappeared from their small town of Roswell Station. Two years ago, only Judith returned, permanently mutilated, reviled and ignored by those who were once her friends and family. Unable to speak, Judith lives like a ghost in her own home, silently pouring out her thoughts to the boy who's owned her heart as long as she can remember—even if he doesn't know it—her childhood friend, Lucas. But when Roswell Station is attacked, long-buried secrets come to light, and Judith is forced to choose: continue to live in silence, or recover her voice, even if it means changing her world, and the lives around her, forever. This startlingly original novel will shock and disturb you; it will fill you with Judith's passion and longing; and its mysteries will keep you feverishly turning the pages until the very last.
I did not know that this book was historical fiction when I picked it out to read.

The synopsis and the cover really drew me in and neither really conveys that it is YA historical fiction.

However, I think that the deception played in my favor because I loved this book.

I don't know if I would have picked it up if I knew it was historical fiction because I have not read that genre since I was in middle school and have not been interested in it since.

I was just expecting a book with a good mystery, but this book had so much more.
I have never read a book written in the second person before and I absolutely loved it.

It was so unique and refreshing, but at times hard to get used to.

With it written in first person, I had to re-read some parts at first because it was hard to remember who she was talking to, but then it flowed seamlessly.

I do not know of any other books written like this, but I am sure they exist, and I really want to read more books written in this format.

I love that it was written to Lucas in letter or diary form (not exactly sure).

I felt like it made the story so much more personal and I felt connected with the main character, Judith, because of it.

I also liked that the book switched from past to present, so that readers are only give glimpses into the big mystery surrounding Judith's disappearance.
I absolutely loved Judith as the main character.

She is a very strong character, and although the reader may feel sadness for her situation, I never felt like she ever pitied herself.

Judith was very likeable and although she was disfigured, she always stayed strong and true to herself.

Her character developed so much throughout the book, which I really enjoyed.

I also really liked Lucas as Judith's love interest.

I liked that he was strong, but was still vulnerable and caring.

I also liked that he was flawed and was able to grow as a character throughout the book.

I do wish that there was more background given about Judith's friend, Lottie, who had also disappeared.

I did not feel anything towards her character because there were only a few parts with her in the book.

Not all the characters were worth rooting for, in fact, a lot were not, but they all played an important role in developing the plot and Judith's character development.
I really liked the setting of this book, which is sometime in the past, but it is not exactly stated.

Readers can somewhat guess the time period from the houses they live in, the clothes they wear, their daily chores, and the prejudice's of the towns people. I thought that the beginning and the end of the book were very fast paced and I could not stop reading, however, the middle was slow at times, but I felt like that only deepened the character development.

I also really enjoyed the mystery, but did find some things predictable.

The ending was not a big shock, but surprisingly, by the end of the book it was not the mystery driving me forward, but the romance between Judith and Lucas.
I really didn't know how I was going to feel about the romance in this book, but I absolutely loved it.

I loved that the romance was not instant and that it built slowly over time.

The love was untraditional and unique, which I really liked.

At first I was not sure if I liked Lucas because the reader only learns about him through Judith, but once Lucas started interacting more with Judith, I began to see that he did care for her.

Although I was really invested in the mystery of the story, I felt like the romance is what made me want to read this book night and day.

Lucas and Judith are defiantly a couple that I will not soon forget.
Overall, I really liked this book.

I do think that individuals who do not like historical fiction may find this book a little slow at times, but I would urge everyone to give this book a shot.

I have read some historical fiction and this one is by far one of the best.

I think that it has enough mystery and suspense for any reader to enjoy.