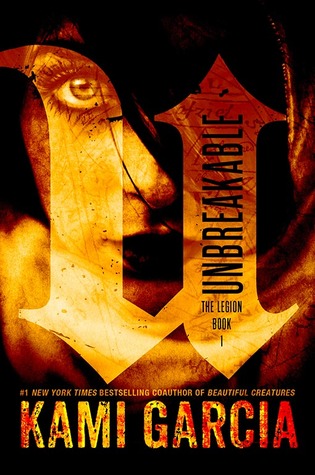 Title: Unbreakable (Legion #1)
Published: January 1st, 2013 by Little, Brown Books for Young Readers
I never believed in ghosts. Until one tried to kill me.
When Kennedy Waters finds her mother dead, her world begins to unravel. She doesn't know that paranormal forces in a much darker world are the ones pulling the strings. Not until identical twins Jared and Lukas Lockhart break into Kennedy's room and destroy a dangerous spirit sent to kill her. The brothers reveal that her mother was part of an ancient secret society responsible for protecting the world from a vengeful demon — a society whose five members were all murdered on the same night.
Now Kennedy has to take her mother's place in the Legion if she wants to uncover the truth and stay alive. Along with new Legion members Priest and Alara, the teens race to find the only weapon that might be able to destroy the demon — battling the deadly spirits he controls every step of the way.
Wow, this book blew me away!

This was such a fun and addicting read that instantly hooked me within the first chapter.

I have never read anything like this book before, which is a shame since I loved it.

This book offers a little of everything: romance, action, mystery, and creepiness.

This book really reminded me of Buffy the Vampire Slayer meets Supernatural.
This book was action packed from the beginning, which I really liked.

I was never bored with the book and would have probably finished it in one day had it not been the 4th of July weekend.

This book was also full of twists and turns that I didn't see coming!

I think that Garcia gave away just enough hints at what future books hold, that readers can speculate as to what is going to happen, but she also left a lot of mystery.

I also found this book to be pretty creepy, especially at night, which I have never experienced before.

I would not categorize this book as being super scary though, so don't worry if you hate reading horror.
This book also had awesome world building!

I loved delving into a world full of ghosts, demons, and the Legion.

I liked that the ghosts had back stories and were not just thrown in the book; however, I did find that some of the ghost's histories were very similar to horror movies I have watched in the past, particularly The Ring and The Possession.

I don't think that it took too much away from the book, but I wish that it would have ventured farther away from mainstream horror movies in which most readers have probably seen.
I loved the characters of this book!

I liked that it was a group of kids that had to join together to save the world.

I really liked Kennedy as a main character and felt like she was really relatable.

I also really liked Priest's and Alara's characters, but I wish that I was able to know more about their backgrounds, but I do feel that Garcia will expand on them as the series continues.

I did like Lukas and Jared, but I felt like their situation was not exactly original.

I hate when it is good guy brother vs. bad boy brother.

Although I wish there was a little more explanation of the characters backgrounds, I still was really invested in their lives.
This book was light on the romance, but I still very much enjoyed it.

There was a slight love triangle between Kennedy, Jared, and Lukas, but I never found it annoying since it was not the main focus of this book.

Also, I

don't believe that the love triangle is going to continue on past this book.

I thought who Kennedy seems to have chosen was a little predictable and I would have liked to see something different, but I don't think that it took away from the plot of the book.
The ending of this book was pretty crazy.

I had so many theories going on in my mind of how the book was going to end.

It did leave off on a pretty tortuous cliffhanger,which is going to drive me crazy until I can get my hands on the next book.

I really liked the ending to this book, but I think that some readers may not like it since it never really had any conclusion at all.

The ending sort of felt like the book just stopped mid-book and that there should have been more, but I actually like that and it really makes me pumped for the next book!
Overall, I loved this book! I think that this was one of the best books that I have read this year and I can't wait to continue on with the series.

I am a little scared that the second book will not live up to the first, but if the series continues being as awesome as the first, I think this may be one of my new favorite series!
The second book in the Legion series, Unmarked, is expected to be published on October 7th, 2014. Check out Kami Garcia's website here to discover more great books by her.