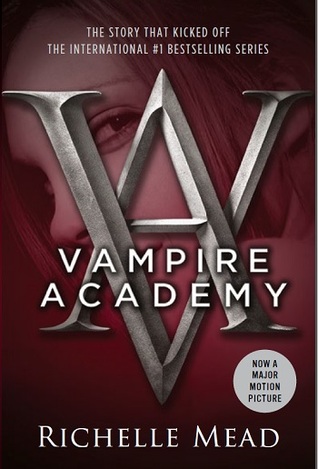 Title: Vampire Academy (Vampire Academy #1)
Published: August 16th, 2007 by Razorbill
St. Vladimir's Academy isn't just any boarding school—it's a hidden place where vampires are educated in the ways of magic and half-human teens train to protect them. Rose Hathaway is a Dhampir, a bodyguard for her best friend Lissa, a Moroi Vampire Princess. They've been on the run, but now they're being dragged back to St. Vladimir's—the very place where they're most in danger...

Rose and Lissa become enmeshed in forbidden romance, the Academy's ruthless social scene, and unspeakable nighttime rituals. But they must be careful lest the Strigoi—the world's fiercest and most dangerous vampires—make Lissa one of them forever.
From all the glowing reviews about this book, I thought that I would have loved it, but unfortunately I thought it was just okay.

I didn't not enjoy reading this book, but I just thought it was boring at times and lacked depth.

I have heard from other readers that the series gets really good after the first three books, but that is a lot to read to get to the good parts of the series.

I think I may have went into this book expecting a lot since it is one of many readers favorite book series.

I think this series does have a lot of potential, I just wish that it started off amazing for me.
I thought the plot of this book was interesting and I liked that there was a mystery, which really pulled me in and made me want to continue reading.

I also liked the world building in this book, with all the intricate vampire social circles and politics, I felt like it made the story unique.

The writing was not fantastic, but it was still enjoyable.

I liked the ending, which had a little twist, and it intrigued me enough to want to continue with the series.

However, this book read a little immature to me, but I am not exactly sure why.

Maybe it was the fact that so many really good YA books have come out since this, which really has raised the bar for YA books.
I had a love/hate relationship with Rose.

At times, I did like her snarky comments, which really reminded me of Buffy, but sometimes came off as rude.

I liked that she was a strong female character, but still had vulnerabilities.

However, Rose occasionally came off as really immature and had bad decision making skills.

She did not completely put me off to continuing with the series, but I hope that she grows on me a little more throughout the series.

I did really like Lissa as a character, but I hope she becomes more independent throughout the series.

I really like Christian as a love interest for Lissa and was rooting for them throughout the book.

I didn't feel anything towards Dimitri (like/dislike) until the end, where I ended up really liking his character.

I am really glad that there was no insta-love in this book, but I do foresee a possible love triangle between Rose, Mason, and Dimitri.
I also liked that this book did not solely focus on relationships involving romance, but also friendship.

I thought that Rose and Lissa were great friends and I really want to see how their friendship grows in the next book of the series.

I was very intrigued with the connection that they share and that Rose can feel Lissa's emotions through their connection.

At times I felt like their friendship was really intense, but I am glad that it was explained a little more why they are so close and connected.
Overall, I did not love the book, but I did enjoy it enough to continue on with the series.

I hope that I will fall in love with this series like so many other readers have.

I would also recommend it to other readers since it is such a loved series in YA.

I can't wait to hopefully be sucked into the world that Mead has created.