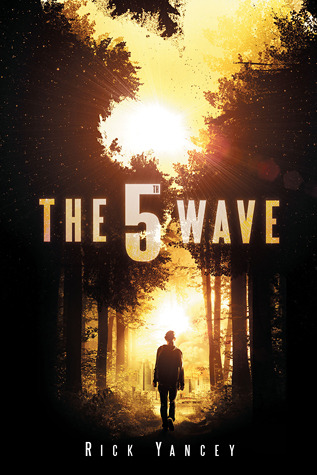 {Review} The 5th Wave
Title: The 5th Wave (The 5th Wave #1)
Published: May 7th, 2013 by Putnam Juvenile
After the 1st wave, only darkness remains. After the 2nd, only the lucky escape. And after the 3rd, only the unlucky survive. After the 4th wave, only one rule applies: trust no one.

Now, it's the dawn of the 5th wave, and on a lonely stretch of highway, Cassie runs from Them. The beings who only look human, who roam the countryside killing anyone they see. Who have scattered Earth's last survivors. To stay alone is to stay alive, Cassie believes, until she meets Evan Walker.

Beguiling and mysterious, Evan Walker may be Cassie's only hope for rescuing her brother—or even saving herself. But Cassie must choose: between trust and despair, between defiance and surrender, between life and death. To give up or to get up.
This book was AMAZING!!!

I have a soft spot for anything involving post-apocalyptic worlds and this one blew me away.

I read this book so fast and had a hard time putting it down.

This book had everything that makes a book great: action, fast-paced, great characters, amazing writing, intricate plot, and a swoon worthy romance (or at least I thought it was).
I loved the writing in this book.

I thought the duel points of view was written so well, some of the best that I have ever read.

Usually authors seem to struggle with creating distinct voices for their characters when they write in duel points of views, but Yancey was able to change his writing style so that all the characters voices were unique and easily distinguishable from one another.

I loved reading Cassie's point of view because her inner and outer dialogue was very snarky and funny, but not in an annoying way.

I loved hearing about the alien invasion from her point of view and her sections were my favorite parts in the book.

I also really liked Ben's (AKA Zombie's) point of view as well.

I feel like the majority of the parts in the book that Ben was in were heart-pounding and action packed.

I also like that Yancey included small sections of other people's points of view to give readers insight into what was happening in other parts of the world.
I absolutely loved the plot of this book.

Although there are other books focusing on alien invasions, this one did it in a completely unique way.

The different waves that were wiping out human existence was such a good idea and I was always on the edge of my seat to see what would be the next wave of attack.

I also liked that this book was realistic in that when the aliens invaded, teenagers remained teenagers.

They did not all of a sudden know how to fight a war, cure diseases, and turn into soldiers.

Most of the characters in this book survived from pure luck.

The characters also did not make horrible, rash decisions that were highly unlikely to succeed….well mostly.

I also liked the psychological aspect of this book.

Yancey really pegged society well and was able to create a population that adhered to decisions that would likely be made if an alien invasion (or other big catastrophe) had happened.
I fell in love with the characters in this book and there were not any characters that I disliked, except the ones that you were suppose to.

I really was rooting for all of these characters to succeed and continue living.

I felt a really strong connection to Cassie because of her background and how much she had to fight to survive.

I think it was learning about Cassie's past that really made me like her a little more than Ben.

Readers get a slight look into Ben's past, and although it is just as sad a Cassie's, we don't get the in-depth look at his family dynamic or the pain he went through.

I really liked Cassie's little brother, which surprised me because usually young children in post-apocalyptic books become really annoying.

I also liked Ringer because it was nice to see that Yancey included several kick-ass girls in his book.

I am really glad that she will be more of a central character in the second book.
This book defiantly made me have all of the feels.

Within the first 100 pages, I had laughed and got teary eyed.

I felt so sad for Cassie, Ben, and all the other characters in this book because of the loss that so many of them had felt.

I thought Yancey was really good at making readers feel the loss, panic, and hopelessness that the characters were feeling in this book.

My adrenaline was constantly running on high while reading this book since it was full of really intense moments.

I was shocked several times because there were so many twists that I did not see coming.

I really enjoyed the ending of this book, which left off on a huge cliffhanger.
The one thing that I was not expecting in this book was the romance.

I was surprised at how much I was invested in the relationship Cassie had with another character in this book.

I was rooting for them even though the odds are completely against them in every way possible.

I kind of feel like there is a possibility for a love triangle in the second book of this series, but I am thinking Yancey will not take that route (or at least I am hoping).

I usually like love triangles, but I am so invested in the relationship between Cassie and the other character (I don't want to give away spoilers) that I do not want to see anything get in the way of it.
Overall, this book was fantastic.

I will defiantly be continuing on with the series and am so happy that this book is being made into a movie.

I think this book is going to translate into film perfectly and I know this is one book to movie adaptation that my husband will not be complaining about taking me to.

I do recommend this to anyone who likes post-apocalyptic books, but be warned, this book is pretty depressing at times and does cover some mature themes.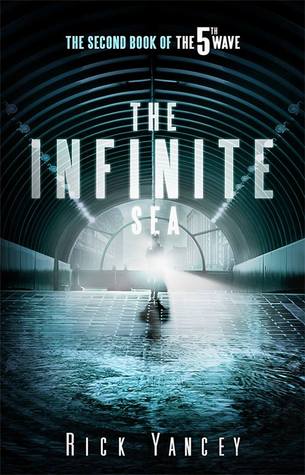 Make sure to check out the second book in The 5th Wave series, The Infinite Sea, which is being published on September 16th, 2014. Also, check out the trailers below from The 5th Wave that show each of the waves (may be a little spoiler-y).