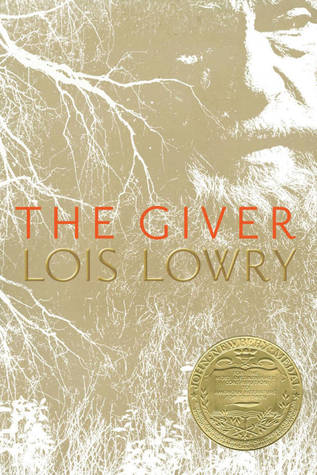 {Review} The Giver
Title: The Giver (The Giver Quartet #1)
Published: April 26th, 1993 by HMH Books for Young Readers
There is no turning back once you learn the truth.
Twelve-year-old Jonas lives in a seemingly ideal world. Not until he is given his life assignment as the Receiver does he begin to understand the dark secrets behind this fragile community.
I really thought I would absolutely love this book, but unfortunately, I did not fall in love.

I wish I would have read this book in middle school because I feel like I would have enjoyed this book much more.

With so many great and more recent dystopian novels, I just felt like this book was not as developed as I would have liked and I was unable to have a connection with any of the characters.

I did enjoy reading parts of this book, but I also found some big flaws that really interfered with my ability to full enjoy this classic novel.
The writing in this book was great, it was simple and to the point.

The pacing was somewhat slow throughout the book until the very end, which did become pretty action packed.

I did become bored in the middle of the book because it became much slower paced and focused more on the memories rather than world building, which was one of my favorite parts about this book.

I feel that if the book would have been a longer book, I may not have finished it.

I liked that the beginning focused on introducing readers to the world and all the policies that the community had to follow.

The book did have some twists in it, however, I felt like they were all pretty predictable, but still enjoyable.
I really enjoyed that this book was pretty thought provoking and created a lot of topics that are worth discussing.

Is sacrificing individual differences and choices worth having a perfect society?

Is "releasing" individual's who don't fit the norm acceptable if it guarantees the peacefulness of society?

Is it worth not having any good memories and love so individuals will not have to deal with any pain?

Is the world Lowry created bad, good, or some of both?

Although I absolutely think that the ideas in this book are sophisticated, I just felt blah after finishing the book.
I think that I would have enjoyed this book so much better if I would have become attached to the characters.

Unfortunately, because of how the world was set up, I was unable to find anything relatable in any of the characters.

All of the characters act like robots and have no emotions, of course that is how the society is, but it makes it really hard to care for the well-being and safety of them.

I did like Jonas, but I really did not know who he was.

I felt like that book was full of facts and observations, but nothing that made the characters personable.

I do feel like the Giver did have some personality, but he was not featured enough for me to really get attached.

I feel like I was the most attached to Gabe (the baby) in the book because he had a personality, which I think was the reason I loved the ending so much.
The ending of this book was my favorite part.

It was so intense and there were a couple twists that I found entertaining.

It was fast-paced and kept me guessing to the very end…and then after.

This book leaves the ending open, which I know a lot of people would not enjoy, but I think it just adds to the questions this book brings up.

I like that there is a lot of speculation to what could have happened and that readers can choose their own ending.

I did look into the next books in the series and I do believe that it is eventually reveled what happened at the end of this book, which I am very interested in finding out.
I truly feel on the fence about this book because there are big factors that I both liked and disliked about the book.

However, I do recommend it to all readers.

This is a classic and if you have not already read it in school, I would highly recommend picking it up and giving it a try.

With the book being so short, I feel like a lot of begging readers would enjoy this book very much.

I am planning on continuing on with the series and was happy to find out the next book seems like I may enjoy it a little more than I did this one. Plus, there is already two movie adaptations of this book, so that makes this book more fun to read.
Check out the other books in the Giver Quartet series