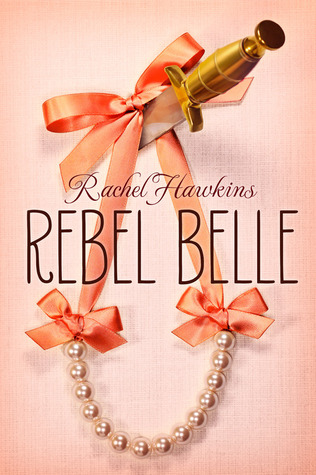 Title: Rebel Belle (Rebel Belle #1)
Published: April 8th, 2014 by Putnam Juvenile
Harper Price, peerless Southern belle, was born ready for a Homecoming tiara. But after a strange run-in at the dance imbues her with incredible abilities, Harper's destiny takes a turn for the seriously weird. She becomes a Paladin, one of an ancient line of guardians with agility, super strength and lethal fighting instincts.

Just when life can't get any more disastrously crazy, Harper finds out who she's charged to protect: David Stark, school reporter, subject of a mysterious prophecy and possibly Harper's least favorite person. But things get complicated when Harper starts falling for him—and discovers that David's own fate could very well be to destroy Earth.

With snappy banter, cotillion dresses, non-stop action and a touch of magic, this new young adult series from bestseller Rachel Hawkins is going to make y'all beg for more.
I absolutely loved this book!

This book was fast-paced, full of drama, and had really genuine characters.

I loved that this book reminded me so much of Buffy the Vampire Slayer, but still had uniqueness.

I have never read Rachel Hawkins's other series, Hex Hall, but after finishing this book, I checked it out from my local library the next day.

I thought that this book was super fun and a great, light-hearted read.
I loved the writing style of this book.

It was full of sarcastic dialogue, witty humor, and was just overall adorable.

I liked that the book was written in first person from Harper's POV, which really made me have a good understanding of her character.

I think that if this would have been written in second person, Harper may have come off as an annoying overachiever, but her inner dialogue really makes her relatable and likeable.

I also really liked that the book is realistic in that it acknowledges that teens swear, but was able to portray it in a way that it would not be offensive to readers who do not like curse words in their books.

I thought that pacing of this book was perfect and it never had a moment where it dragged.

I absolutely loved the plot because it felt like a contemporary book, but had paranormal aspects mixed in perfectly.

The Paladin aspect really made this book interesting and I really enjoyed learning more about how it played into the plot.
I really liked the characters in this book.

I loved Harper and her witty inner dialogue.

I also loved that Harper was a girly girl, with her lip gloss and poufy dresses, but was still able to kick-butt.

I also really liked Bee as a character.

My grandmother's name is Bee and I have yet to see that name used in any Young Adult literature that I have read.

I did like the relationship between Harper and Bee, but I do hope that it grows and becomes a little deeper in the upcoming books.

I also really liked David, however, I felt the relationship between David and Harper was fairly predictable.

I did still like their romance and was rooting for them the entire time.

I also like that David dressed unique and whenever Harper would describe his attire, I always pictured Penn Badgley who played Dan Humphrey on Gossip Girl.
The romance in this book was good and I really liked that it was gradual and did not happen immediately.

I also liked that I felt torn between Harper's two love interests.

Both boys were very likable, which made it really hard for me to root for Harper to choose one over the other.

However, I would not classify this as a love triangle because I think that it is pretty obvious to all readers who Harper will end up with.
I was a little disappointed that the "bad" characters that were after Harper and David were not expanded on as much as I would have liked.

I thought the motivations at the end of the book were somewhat confusing and I did not feel the dread that was intended at the end of the book.

However, I am sure that more details will be explored in the second book.

I also was sure that what happened to Harper's sister would somehow play into the paranormal plot, but perhaps it was just to add dimension to Harper's and her mother's characters.
I really liked the ending to this book because it was really fast-paced and there were some twists, however, they were somewhat predictable.

I do like how it ended off, which was not a huge cliffhanger, but it was still a big event that will keep readers interested in knowing what will happen next.
Overall, I would recommend this book to readers, but it does appeal more to teen girls.

With the cover being pink and the bows on the tops of all the chapter headers, it does make the book super cute and girly, but not exactly boy friendly.

However, I do think that a boy could enjoy this book and wish that it was a little more gender neutral (even though I do really like how the book looks physically).

I am most defiantly going to pick up the next books in this series because I am dying to know what happens next!
Make sure to check out Hawkins's other book series, Hex Hall.