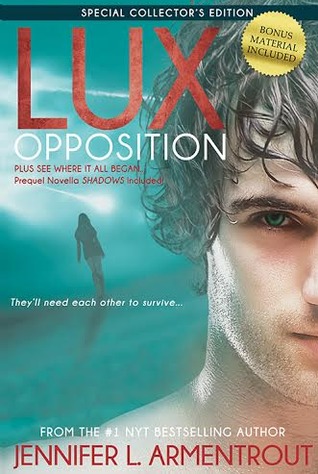 Opposition by Jennifer L. Armentrout
Published
: August 5th, 2014 by Entangled Teen
Genre:
YA, Romance, Science Fiction
Katy knows the world changed the night the Luxen came.

She can't believe Daemon welcomed his race or stood by as his kind threatened to obliterate every last human and hybrid on Earth. But the lines between good and bad have blurred, and love has become an emotion that could destroy her—could destroy them all.

Daemon will do anything to save those he loves, even if it means betrayal.

They must team with an unlikely enemy if there is any chance of surviving the invasion. But when it quickly becomes impossible to tell friend from foe, and the world is crumbling around them, they may lose everything— even what they cherish most—to ensure the survival of their friends…and mankind.

War has come to Earth. And no matter the outcome, the future will never be the same for those left standing.


Talk about bitter sweet! I bought this book the week it was released and held off reading if because I did not want this series to end.

However, lucky for me, Jennifer L. Armentrout is a writing machine and I have plenty of books of hers to become obsessed with.
This book was amazing!

The writing was great and the dialogue was funny.

I liked the dual perspective between Katy and Daemon because it made me feel how strong their relationship was.

I thought this book was fast-paced and full of action.

I was really sad that this was the last book, but after reading this book, the series did feel complete.
The characters in this book were just as good as they are in all the other books.

I wish we would have seen more of Luc and I felt like his story line was a little incomplete.

I am somewhat wondering if we will see a spin off series focusing on Luc?

I guess time will tell.

I really like Dee and Archer and their romance.

Beth and Dawson were not in this book very much and I wish they would have been in it more.

I did like that the characters from her spin-off series, Obsession, made appearances. I feel like it might have been good to read Obsession before this book so I would have been more familiar with these characters.
I thought that Katy and Daemon's romance was taken to the next level.

I always knew that they loved each other, but it was so much deeper in this book.

I like that there relationship was strong and not full of any teenager angst.

They made decisions together and were unselfish with their choices.

This book has a few steamy scenes considering it was YA, but I did not feel like they were inappropriate.
Overall, this book was a great ending to the series.

The only negatives I have are that I wish it would have been longer and although loose ends were tied up, I wish they would have been flushed out more.

I kind of felt like there were puzzle pieces that were missing that should have been included, but were taken out for whatever reason. This series is the series that I recommend to readers the most.

It is addicting, and because Armentrout writes so many books, there will always be something else to read from her.
Check out some other books written by Jennifer L. Armentrout!